Live what connect.
Grafs is represented in many parts of the world and lives values in which humanity, tolerance and honesty are a matter of course.
Polar Latitudes is an industry leader in
providing small ship expeditions to
Antarctica, combing an up-close and
personal experience with a deep
commitment to protecting this unique
and critically important environment.
Founded in 2010, Polar Latitudes remains
founder owned and operated, and solely
committed to the Antarctic continent.
Already in the year 2000 the trained confectioner Erich
Graf in St. Andrä opens the coffee-pastry shop Andreasplatz.
Not only because of its many years of experience as a hotel
manager on ships and in gastronomy management, but
above all because of the excellent quality of its products over
the years it has made a name far beyond the borders of the
Lavanttal, Austria.
Today there are a total of four locations of Graf's Gastronomy,
including a restaurant, coffee houses and a shopping market!
Graf's ImmoNet acts as a real estate holding
company. The Graf's Aichelburghaus is one of the
newest projects in the heart of Wolfsberg's old
town in Austria. But also, the development of the
Convent of Maria Loreto is one of the ongoing
projects, which will be a generational project and
make St. Andrä in Austria more attractive. Graf's
ImmoNet is also involved in other projects in Austria.
Sustainability and attractiveness for the surrounding
environment is important for all investments.

In 2018, Mrs. Jelena Graf had fulfilled her dream
of her own dog studio in the well-known
Pötsch-Haus in St. Ändra in Austria. After a
successful training as a qualified dog stylist in Styria,
the desire to do this in a professional way became
even greater. In October 2018, after a small
renovation, the "Hunde Studio by Jelena Graf"
was able to open in the heart of St. Andrä. We
want to respond individually to customer requirements
and the welfare of the animals comes first.
Proteum Energy, is a clean energy producer
providing micro-refining technologies
capable of producing blue hydrogen and
designer fuels for power and compression.
Proteum Energy has a stated goal of providing
low carbon intensity hydrogen and industry
friendly and compatible services designed
to lower the overall carbon footprint
of produced fuels and related emissions
derived from the oil and gas industry.
Signum Hotel Operations Austria is an
internationally active company based in
Wolfsberg, Austria. Due to the many years
of experience in hotel catering on expeditions
ships in the polar regions, as well as special
expeditions with only few passengers, we offer
you a tailor-made hotel catering for your ships.
We take care of everything from staff to
equipment to provisions, so you can rely on us.
Through our partner Signum Hotel Operations
Australia, we offer you a contact person and
the necessary know-how in every hemisphere.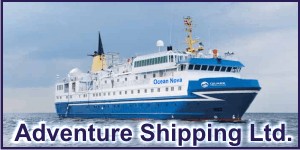 The Adventure Shipping Company is the operating and
marketing firm of the expedition ship Ocean Nova. A small
and intimate ship with a maximum capacity of 100
passengers paired with high-class catering and experienced
personnel, ideally for expeditions to the Arctic and Antarctica
as well as exploring cruises all over the world. Due to the
hardened hull the ship easily can access ice destinations
and provide an extraordinary experience. With the Panorama
Lounge on the upper deck you are able to experience the
outdoors from inside whilst enjoying a drink of your choice.